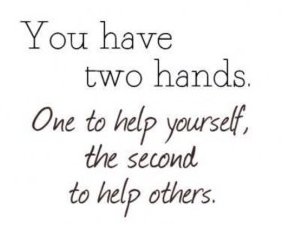 In the world in which we live, full of uncertainty, despair and hopelessness, it's not hard to find simple things you can do to put a smile on someone's face or brighten the world of another! As Gandhi said, "be the change you want to see in the world," and start with one step at a time.
As I write this Saturday morning, I'm just returning from my 10-year-old daughter's Soccer Day and first soccer exhibition game. As we were leaving, my two youngest kids asked me if they could share a snow cone from one of the many vendors set up at the event. After I paid the $4 and waited for the snow cone, I saw a young father and son walking away from the same stand. The young boy may have been about six or seven. I heard the dad ask the girl at the stand if they accepted debit or credit, but most do not at those weekend events. When the girl told the young dad they could only accept cash, I watched him turn and start to walk away. The little boy looked as though he had lost his best friend; he really wanted that funnel cake! So did I, but as I like to say about french fries, one of my weaknesses, I like them but they don't like me!
In that split second, as the father and son started to walk away, my conscience told me to step in. I stopped the dad, asked what the little boy wanted, and handed him a $10 bill. He looked at me, asked me if I was sure, and thanked me for my generosity. He handed me the two dollars he had in his wallet and gave me the change from my ten. What struck me most from this brief encounter was the little boy, who looked up at his dad, with me standing there and said, "that was nice of him." Not only did the little boy observe what just happened, so did my own kids. My daughter reminded me that was the second nice thing she had seen me do since watching the Orioles lose to the New York Yankees at Camden Yards the night before! (I gave the Dippin' Dots guy an extra dollar tip on our four dollar purchase, telling my daughter he probably had a family, just like us, and was out here at the game trying to do all he could to support them. She understood.)
I used the encounter as an opportunity to explain the concept of 'paying it forward' to my children; after all, kids model behavior after their role models, and too much of what kids see these days is not so positive or inspirational! Those five dollars were worth it to see the smile on the little boy's face and not the frown he had been wearing when he found out funnel cake was not in the cards this Saturday morning.
We all hear about driving through a tollbooth and paying for the driver behind you as a gesture of goodwill. With the invention of the EZ Pass, that's not so easy to do! I challenge you to find ways to pay it forward, modeling behavior your children can see and emulate. Your one nice random act of kindness lives on in the many lives it touches when others pass it on!