The Power of Communication
Was reminded of the great opportunity I had  to reach out and speak to Guardian Life Insurance company agents all over the country…via my speaker phone.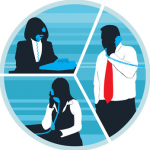 The topic was Relationship Building, The Impact to the Bottom Line.
In an industry where so much pressure is applied to "making the sale" and "closing the transaction" we shifted the paradigm to help financial advisers to focus on building quality, life long relationships!
It is in those relationships recognizing the "value in every relationship" that we can truly give back, help others succeed and become more than just a salesman!
We took many calls from around the country and one notable one from Mary in Minneapolis, who has been in the financial services industry for less than 2 years and is struggling to make an impact. Mary wanted to know what she could do to "jump start" her slow start. One thing I told Mary was she needs to not only ask for help from her centers of Influence but she needs to tell those Centers of Influence how they can help her.
Remember, if folks genuinely like you, they should be willing to help. Sometimes they don't because they simply don't know how! Tell them specifically what you need them to do and you're well on your way to building a strong core of nominators and advisers! Just one of the many "pearls of wisdom" from the call!
-Bob Paff
p.s. Don't forget to sign up to Get Empowered & Informed with Motivations, Inspirations, Advice & Updates.