I gave a talk on Social Skills to a group of fifth-grade boys at the local parish school my children attend. The genesis of this talk was rooted in my shock and dismay after chaperoning a field trip for the third graders just a couple of years ago. Gone were all those social pleasantries we grew up with and were taught by our parents and teachers. Not only have we come to accept rude or indifferent behavior, we've come to expect it! It's only when we encounter, in the words and writings of Johns Hopkins professor Peter Forni, civility, that we are taken aback.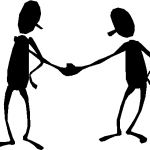 It's too easy to lay the blame squarely on the shoulders of technology, with every imaginable gadget to make us faster, more efficient and more productive. By the time you bring your new device home, the manufacturers have already rolled out its replacement. I think the term "planned obsolescence" still applies! While technology has made us faster and more productive, it has also made us less approachable, less connected, less involved, and even less interested.
Since opportunity always stems from adversity, I'm waiting for some earth-shattering idea to swing the pendulum back the other way and realize the significance and productivity of doing business the old-fashioned way, with relationship building and face-to-face contact. Someone will soon realize the genius in this simple approach and harness the masses into a new wave of productivity! I touch on this in almost every piece I write, when I talk about being connected, looking out for the other guy, picking up the phone to ask what you can do to help someone. Again, I'll go out on that limb and guarantee that you will be more productive, generate more leads and revenue, create more awareness of your product or service, make an unintended difference in someone's life or business! You can't miss! What's your fear, why the delay?
My fear is that if we don't mend our ways – clearly what we're doing is not working – we run the mammoth risk of, within a generation or two, wiping out any form of one-on-one, face-to-face, business-over-breakfast-or-lunch connection with each other. Our children, our youngest associates, and future corporate leaders will know no other way. The ramifications of such ignorance not only affect business, but in my opinion, and more significantly, our willingness and ability to resolve conflict at any level,
personal or professional. Relationships have ended and employees fired via text and e-mail. With the push of a button or the flip of a switch, we can walk away and never look back! There's HUGE opportunity here, folks, gold in those mines. Where's your shovel?
To Your Success!