Let me tell you a story.
I confess to being a needy guy, there, I said it! I would go so far to suggest that we are all needy. After all,  what is Facebook really about? Connecting socially to feel the Love and Share the Love, we're only human. We long for the desire to feel appreciated, connected, acknowledged and Loved. Even those of us who use social media for business purposes, self admission or not, still want the Love.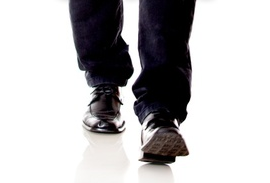 Has anyone in your circle of Friends, who, no matter how often you Like or Share their stories, they never or hardly ever Like or Share yours? They see the world through binoculars, only as it revolves around them. You know who you are. While you ignore our pleas for Love we dutifully acknowledge your new hairdo, latest fashion purchase or that adorable pet you never tire of posting pictures of! We draw conclusions of folks, armed with little more than a picture they share or comment they make, a wish or a dream, we hold them accountable.  Walk A Mile in My Shoes, I'll Walk A Mile in Yours!
I've been judged by the color of my hair, the content of my words and the smile on my face. In reality, I'm a twice divorced,  orphaned at 53 with no living parents or siblings, with six kids I wish I saw more of, single dad! I grew up in a bedroom house in a rough section of East Baltimore,  not far from Johns Hopkins Hospital, not the beaubolic grounds and stately mansions of Johns Hopkins University. My dad left us when I was 10, running off with my mom's best friend. Memories of him after that are few and far between. He died in 1991, a broken and lonely man. My mom died in 2005 and my only sibling in 2011 at age 54. I went to Lake Clifton High School and then put myself through Towson University. 53 years later and two failed marriages, I wonder where it all went wrong! We are products of our environment,  products of our Family of Origin. Do apples ever fall far from the tree? A sad fate I hope none of my children experience.
So yes, I'm a needy guy, craving the Love and Attention I must not have received as a child. I seek it as much as I hope I share it. If not, I hope you'll tell me. After all, we want the same things.  Walk A Mile in My Shoes, please!